Neo Planner V2.3.4
---
[Home] [Geo settings] [File Structure] [object selection] [No Go Areas] [Common restrictions] [CCD Parameters] [Loading] [Revise] [Object information] [Impressum]
---
NEO Planner - Planning tool for NEO and comets for IAU observatories, interested observers welcome!
Introduction:
The idea for Neo Planner comes from Free Basic planning programs for personal use, which I have been written and used since 2017 on K87.
Neo Planner however, has been developed with Microsoft Visual Studio since spring 2020.
Thanks to the active support of Father Christoph Gerhard OSB from the monastery observatory K74 Muensterschwarzach, Neo Planner could be prepared for global use.
His math skills as an engineer and his tips and time for testing helped me immensely in creating a usable version of Neo Planner for IAU observatories in general.
Neo Planner is off course not intended for surveys, but rather for amateurs or professional observatories with telescopes from 20cm up to about 1 m in diameter.
Neo Planner is able to calculate observable comets, unnumbered NEO and NEOCP objects of the coming observation night
and to bring them into a chronological sequence according to any location and the possibilities of any equipment.
Due to years of experience in measuring comets, asteroids, NEO or NEOCP objects,
I found the laborious preparation of the manual search and compilation of objects for the night session to be time-consuming and in no way motivating.
In the past, I usually spent several hours preparing and then spent sleepless hours during the night positioning, focusing, and readjusting the objects.

Due to a professional affinity for programming and process improvement, I finally thought about how I could give my motivation to observe and measure the objects
of the solar system a boost and then decided to take the programming into my own hands.
The deployment of Neo Planner is a consequent step to share the functions of the program with all interested observers.
During the often long periods of bad observation weather at my location, the program should also be usable for other stations.
Neo Planner is basically suitable for all observatories with IAU code, regardless of whether the observation is done manually or fully automatically,
whether you just watch for a few hours or all night. Simply pick those objects from the list that seem interesting to you.

The program is also coded with a hardware key and runs only on authorized computers.
Neo Planner is Registerware (Freeware requiring registration) and does not use cookies, neither tracking nor tracing.
Neo Planner is based on Microsoft .net technology and runs on Windows 10 with Framework 4.7.2. upwards only. A stable internet connection is mandatory.
The program, like all other programs, can contain errors. I ask for a benevolent report if recognizable errors occur.
If you have any questions or suggestions, please send me an Email.

Installation process:

Before you contact me, first click through the navigation bar on this page above and read all the explanations carefully.
If your IAU observatory is equipped for the requirements, you are welcome to contact me using the procedure below.
Note that preparing to use Neo Planner will take some time.
The process is as follows:

1. Send me an email, please. After that, I'll send you a link to a shared folder. Then download the Setup.zip file to your computer.
2. Unzip the .zip file to a folder of your choice, but not to C: \ neosettings!
2a. If the loading over the descriped method doesn't suceed, try to load the setup program over this link and store
setup.zip into a folder of your choice, but not to C: \ neosettings! After that, call setup.exe and follow the instructions.
Hint: If a Firewall of your computer is blocking the download, send an Email to me, please. May be we find another method to load the setup.
3. Call setup.exe only once! Ignore warning messages from Windows or the firewall. An internet connection is mandatory.
4. A folder C: \ neosettings is created and all necessary programs and files are loaded into this folder.
I also get information that Neo Planner has loaded on your computer! Only hardware information is transmitted here.
Hint: You can also send the hardware information to me via Email. Attach this file C:/neosettings/hardware_sich.txt please.
5. You will now be asked to log in to https://groups.io/g/neoplanner/ and share your experiences with Neo Planner.
6. After reading the information from your computer, I will approve it for the use of Neo Planner.
Keep in mind that in my time zone and because of my job, I may not react immediately.
7. You can only use the program after I have given my approval via email.
8. Neo Planner is called up using the shortcut created or by calling up the Neo Planner.exe program in the C: \ neosettings folder.
9. First carry out all the settings in the order from top to bottom before using other functions of the program.
Follow the instructions here on the web on how to best prepare Neo Planner for planning the coming night.
10. Confirm, if requested, all programs from Neo Planner as trustworthy.
Report bugs you encounter in a constructive and friendly manner, please.
The description of the program here on the web is not yet complete and will be supplemented over time.

What are the next steps in V2.4?
- Manual search for new NEOCP objects, after Execute Planning was running to avoid the time-consumed execute process.
- Enter a desired personal start time in the revise screen and mark the objects accordingly.
- Summary of daily and monthly statistics.
What is new?
Latest Update: January, 10 2021 V2.3.4
What is new?
- Display statistics for daily observations of the MPC.
- Double-Click on Revise, Object Information and Observation screens for links to detailed informations of the selected object on MPC and JPL sites.
---
Latest Update: December, 30 2020 V2.3.3
What is new?
- Including medium NEO diameter and NEO score
- Expansion of the comet selection to include the most recently observed comets of the CometasObs observers.
- Improvement of the object information about the last consignment from CometasObs.
These extensions compensate the disadvantage of the very delayed publication of new comet observations by the MPC.
---
Update: November, 13 2020 V2.3.2
- some corrections of program bugs while loading NEO data
---
Update: November, 05 2020 V2.3.2
What is new?
- some corrections of program bugs
- some more explanations
- including a license code based on hardware information!
---
Update: October, 15 2020 V2.3.1
What is new?
- CGI Query support from JPL Scout CNEOS site for NEOCP objects
- Computation of R.A. and Declination of NEOCP objects according to the observation time (Scout)
- Object Information with coloured Earth MOID - outside Moon orbit: Blue, inside Moon orbit: Green, inside half Moon orbit: Red, inside satellite orbits: Dark Red
- Colored marking of the active observatory in the object information if it has the last observation.
Have fun!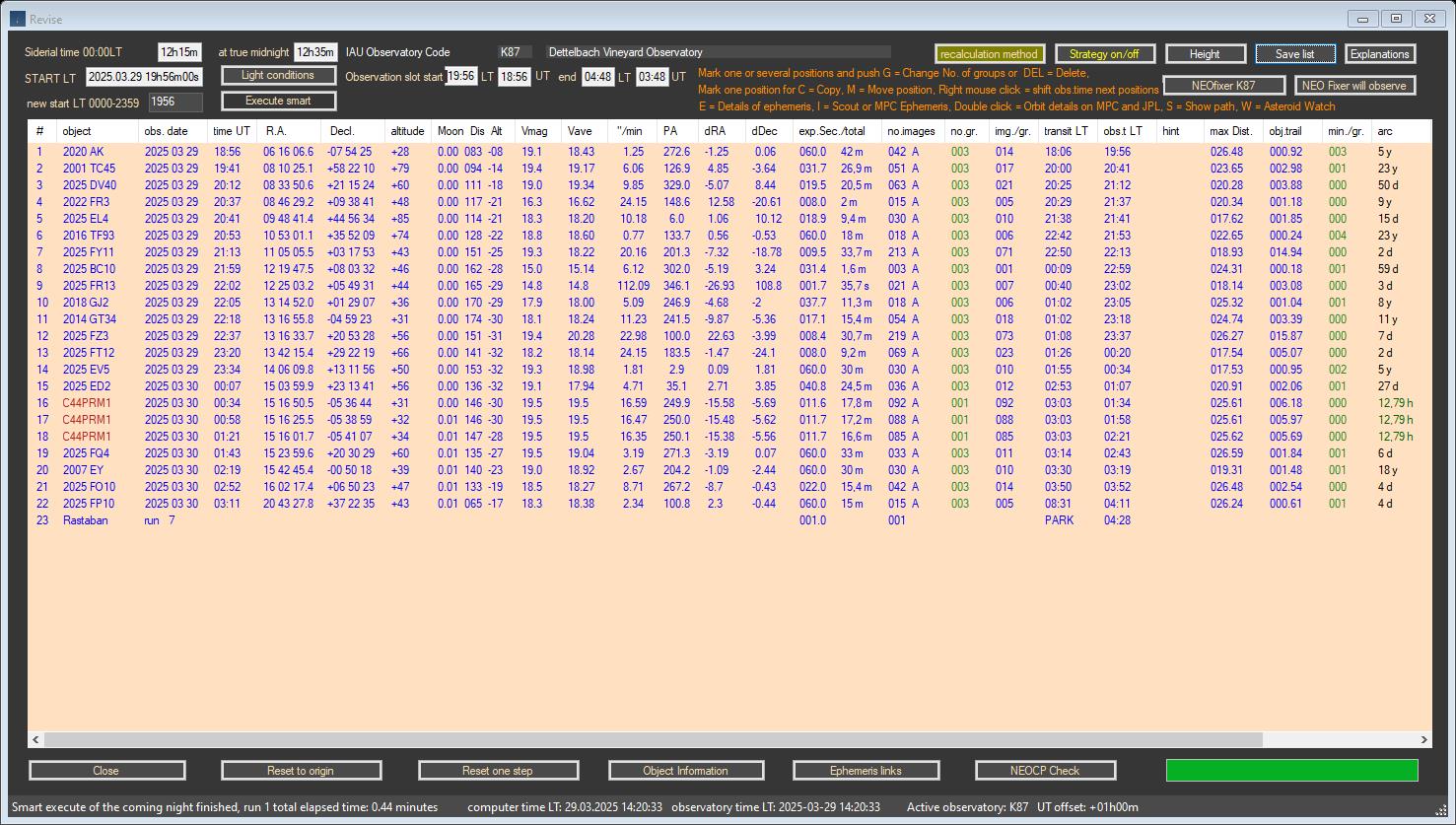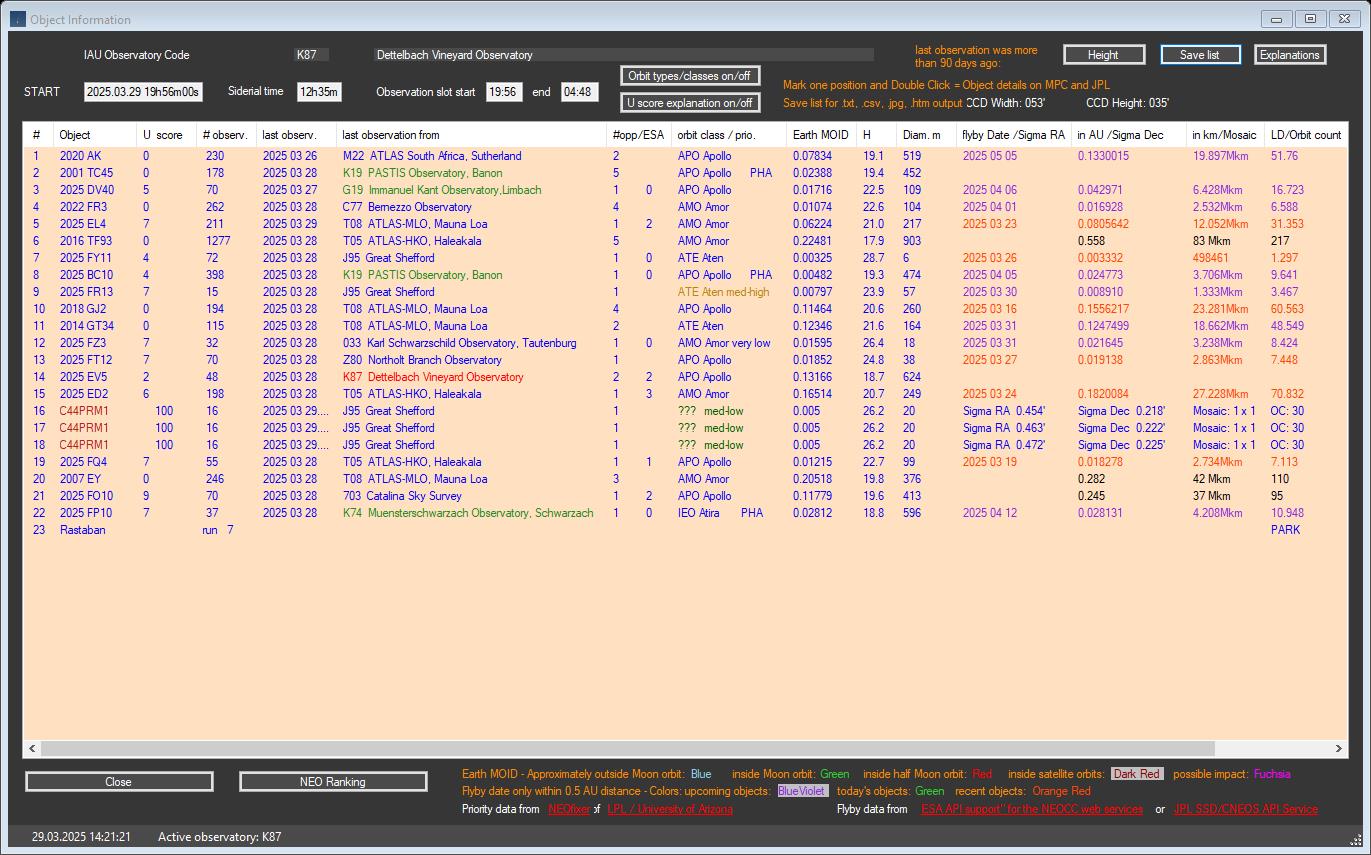 ---
Update: October, 07 2020 V2.2
What is new?
- Complete revision of the Execute Planning tab
- Interactive editing of the daily template in the Revise Button
- Additional Button for Object Information
---
Update: September, 27 2020 V2.1
What is new?
- Displays the ephemeris of NEOs and comets of a calculated optimal observation time.
- Display of the meridian transit time of NEOs and comets as the best observation time.
The best times for NEOCP objects will be recalculated in the next release.
- Activation of the NO-GO areas, useful for German mounts and others who avoid the meridian passage.
- Correction of some bugs and improving the Update feature.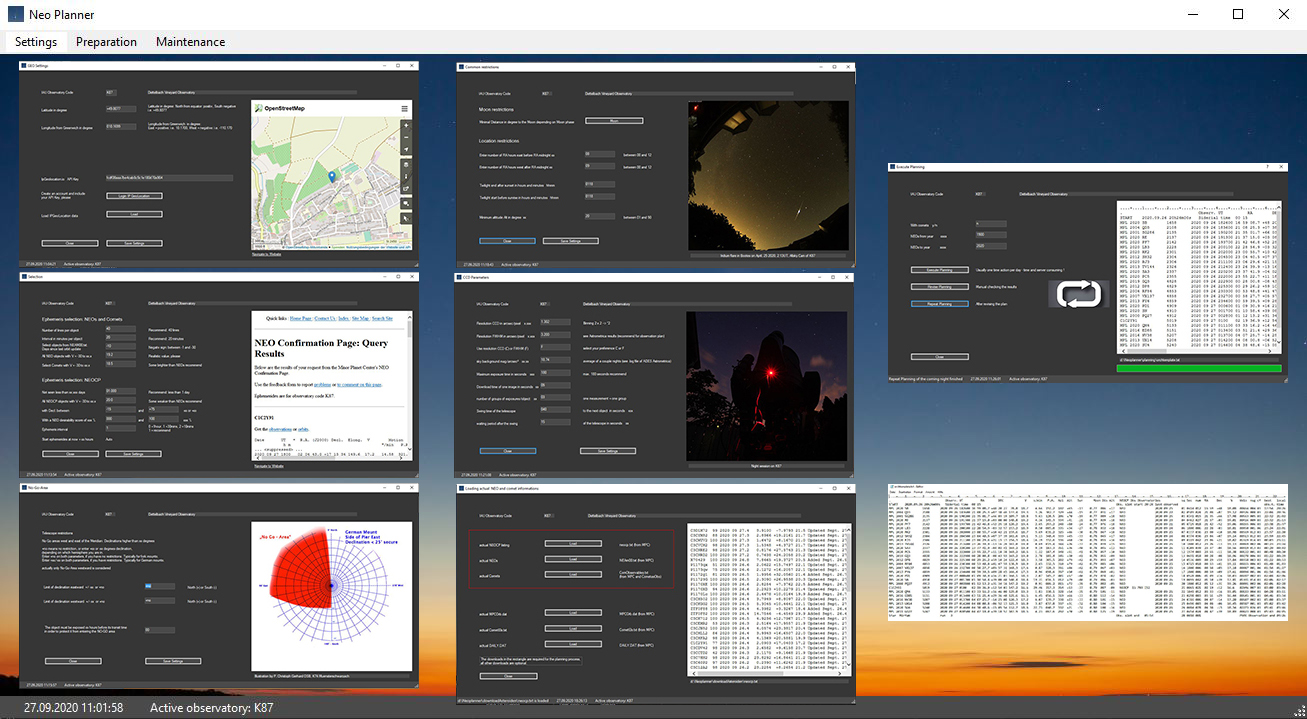 ---